Dog Friendly Accommodation
With 32 acres of dedicated off-leash doggy space, Big4 Gold Coast Holiday Park is the perfect destination for our furry friends. They can run free in our off-leash area and with over 20 dog friendly cabins, plenty of dog friendly camp sites and each site able to accommodate up to two dogs, there is plenty to keep your four-legged friend happy.

Make sure you reserve one of our great dog friendly cabins to make your stay on the Gold Coast the perfect hassle-free break for everyone.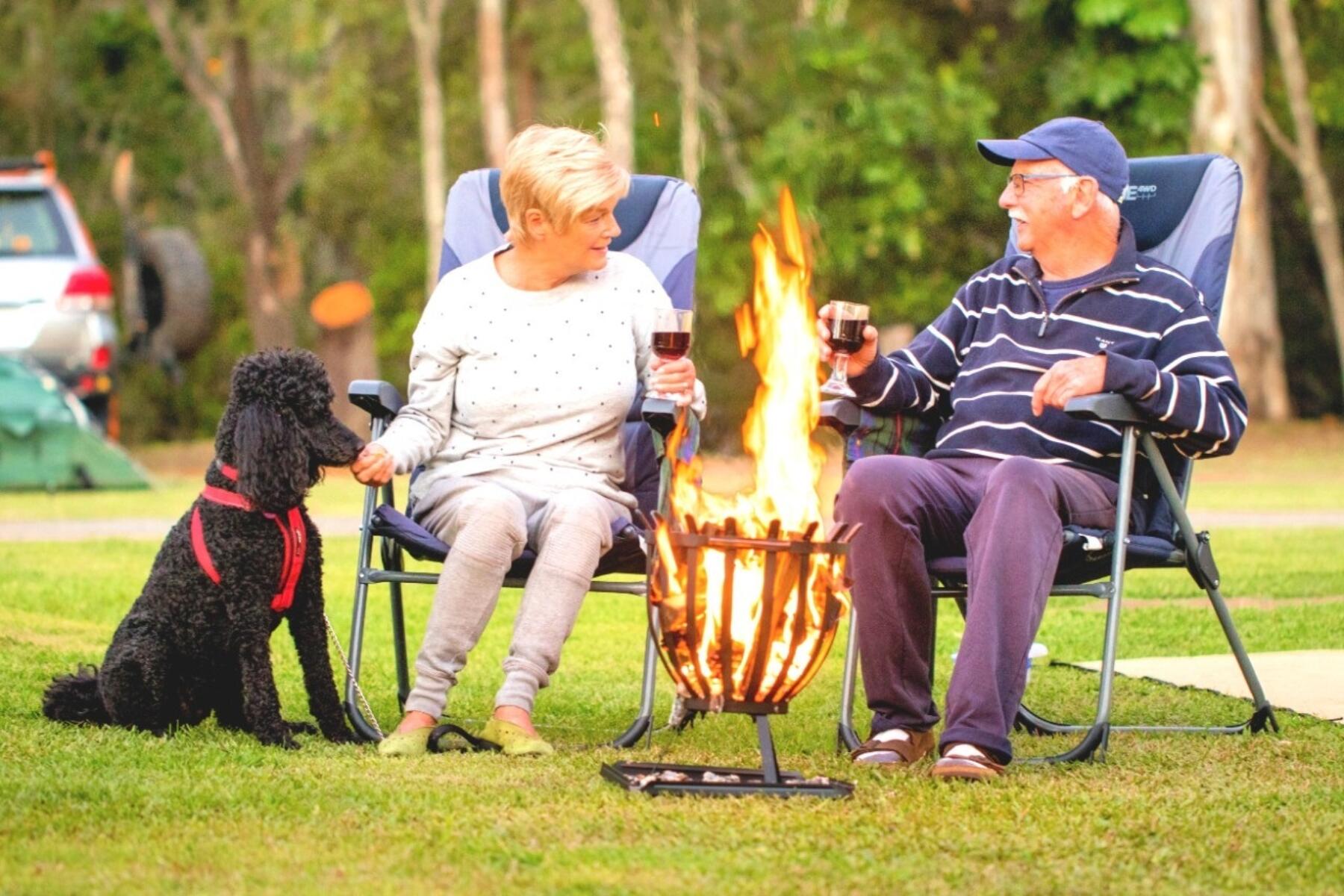 Sites
All our caravan and camping sites are dog friendly because we know that the best holidays are had when the whole family comes along.
Our spacious sites feature fantastic ever-green artificial grass making them perfectly soft underfoot. For those seeking a little more privacy check out our Riverwalk sites. Well located in a quiet part of the park, the Riverwalk sites are designed for extra space and freedom where you can set up your own off ground brazier.
Our dog-friendly Ensuite sites are the perfect bit of luxury to enhance your stay, offering the convenience of your own private bathroom facilities right alongside your caravan or tent site.

Dedicated Off Leash Doggie Park

Along with our dedicated off-leash areas within the park, there are several off-leash areas to enjoy locally including Spit Beach (20-minute drive), Damian Leeding Memorial Park and Nerang's riverside dog-walk (10-minute drive).
Click here for more local off-leash facilities.
Subscribe to our Youtube for more videos around our park -Subscribe Now
Did you know?
Your Dog is likely to enjoy a camping or caravanning holiday as much as you. Read more
Need a Vet?
We love 'Our Vet' at Helensvale for vaccinations, bumps, scrapes and more. Meet Our Vet.
There's also Green Cross just up the road too.
Conditions of Stay
Stay with confidence – things you need to know about dogs staying at Big4

Dogs staying at Big4 Gold Coast Holiday Park must be vaccinated with proof of vaccination required on arrival.
Dogs are required to be on a lead and accompanied at all times.
Dogs must not be left unattended in accommodation or sites.
Owners are required to clean up after their dog.
Owners are responsible for cleaning up after their dog.
Any damage or injury caused by the dog is the responsibility of the owner.
Dogs are not permitted in the pool areas, inside the Nibbles Cafe and water park areas. Dogs are welcome on the Nibbles Terrace.
Please remember that we love our resident koalas and kangaroos too and we ask you to always respect their habitat by not allowing your dog off leash at any time in the park other than in designated off-leash exercise areas.
Failure to comply with our conditions of stay may result in removal of your dog or cancellation of your booking.
Dear New Doggie Guest,

Come and experience all the fun of 32 acres or space with the other 'collared campers' and enjoy the good life when you visit us. Check out the off leash area for a run and a bit of fun. And while the rest of the family are making friends we can do the same. See you after you've had a snooze.
Sammy. PS: No cats allowed!